Board of Directors
The Metcalfe County Chamber of Commerce Board of Directors is a group of dedicated individuals who are committed to promoting economic development and community growth in Metcalfe County. The board is composed of business leaders, community members, and elected officials who represent a wide range of interests. The board meets regularly to discuss issues facing the county and to develop strategies for promoting economic development. The board also works to raise awareness of the county's assets and to attract new businesses and investment.
The Metcalfe County Kentucky Chamber of Commerce Board of Directors is a valuable resource for businesses and community members. The board is committed to working with others to make Metcalfe County a better place to live, work, and raise a family.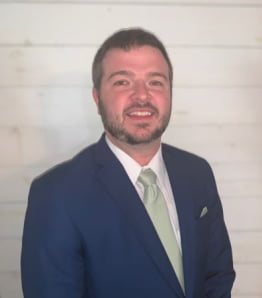 President
Daniel Bragg - Bragg Builders
Daniel Bragg is a 2007 graduate of Metcalfe County High School and a 2011 graduate of Western Kentucky University, where he earned degrees in economics and political science. He lives on the family farm in Summer Shade with his wife, Alley, and two daughters, Rory and Wren.
After graduating from college, Daniel spent 8 years in banking. He now works as a contractor for his father-in-law's company, Randy Morrison Construction. Daniel also serves on the board of directors of Barn Lot Theatre, is the chairman of the Metcalfe County Young Republicans, and teaches Sunday school at his church, Missionary Mound.
An avid supporter of Metcalfe County athletics, Daniel is the voice of the Hornets, providing commentary for all Metcalfe County high school sporting events.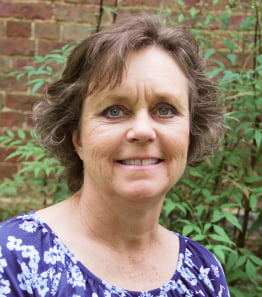 Vice President
Gina Duncan Gibson - Duncan Life & Health Ins.
Gina is a 1984 graduate of Metcalfe County High School, and a 1988 graduate of the University of Kentucky, where she majored in graphic design. She started working at the Kentucky Horse Park as a graphic artist right after college, eventually becoming the creative director and museum exhibits designer until retiring in 2014.
Gina and her husband, Dave, have 2 children, Russell and Valerie. In 2014, Gina moved back to Metcalfe County with her family to live on the family farm. She went to work with her father, Richard Duncan, at Duncan Life & Health Insurance as an independent life and health agent that same year. Gina continues to work in Edmonton selling life and health insurance with the assistance of her mother, Jeanette Duncan. She enjoys horseback riding, fishing, and supporting animal welfare programs.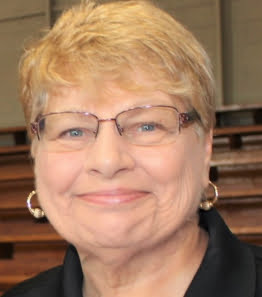 Secretary
Chris Lagermann
Chris moved to Metcalfe County from Michigan in September 2009. She and her husband Bill had purchased land here several years prior to that, which they call Red Lick Ranch. Chris has had various jobs, including assembler at the Corvette plant, secretary for the Hilltopper Athletic Foundation, and secretary and insurance agent for Modern Woodmen of America. She was the office manager for Design Systems, Inc., an engineering company's St. Louis office for several years, and then continued with Design Systems, Inc.'s Farmington Hills, Michigan corporate office from 2002 to 2009.
She and Bill have three sons: Mike (Lynn), Steve (Sarah), and David. They have six grandchildren: Luke, Reed, Rachel, Joshua (deceased), John Thomas, and Peter, and one great-granddaughter, Mackenly Hope. Chris and Bill were members of the 2013 Metcalfe County Leadership Class. Red Lick Ranch is a certified tree farm, and Bill and Chris were awarded the 2018 Kentucky Tree Farmer of the Year. They are very happy to be living in Metcalfe County.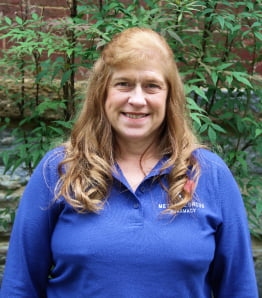 Treasurer
Martha Bragg
Martha is a lifelong resident of Metcalfe County. She is married to Danny Bragg, and they have two children, Daniel and Brandon, both graduates of Western Kentucky University. Daniel is married to the former Alley Morrison. Daniel and Alley have two daughters, Rory and Wren.
Martha has been treasurer of the Chamber of Commerce for over 20 years, the chairman of Metcalfe County Relay for Life, and active in many other organizations. Martha truly enjoys helping others and making a difference in the lives of others. God has given her the ability to help many different organizations in Metcalfe County, and she is thankful for that opportunity.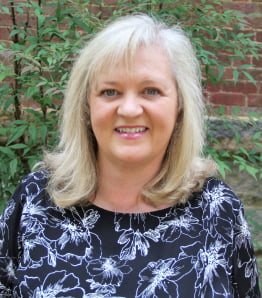 Staff: Executive Director
Kim Harwood
Kim Wilson Harwood is a lifelong resident of Metcalfe County and a graduate of Metcalfe County High School. She is married to Darren Keith Harwood of Scottsville, and she has two stepchildren and one adorable grandson, Murrell. Kim is a member of Foundation Church in Edmonton.
Kim began her career in Metcalfe County as a casework specialist for the Department of Human Resources. She worked in several counties over the years and genuinely cared about the families she served. Kim retired from Health and Family Services as a Service Region Administrator Associate for the Two Rivers Region in 2011. After retirement, Kim worked for the Metcalfe County Sheriff's Office from 2012 through 2021 before entering the role of Executive Director on January 1, 2022.
Kim has a love for her community and was actively involved in the early days of Barn Lot Theater. She was a graduate of the 2007-2008 Leadership Metcalfe County Class. Kim loves reading, gardening, walks in the woods, and spending time on the family farm.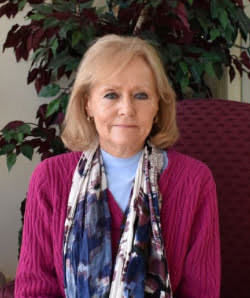 Director
Sherry Devore - Retire
Sherry was born and raised in Louisville, Kentucky. She graduated from Louisville Male High School in June 1964. After graduation, Sherry was hired at Edward J. Miller & Son Insurance Agency in downtown Louisville.
In December 1965, she married Forrest Lee DeVore of Knob Lick, Kentucky, a tobacco and dairy farmer and mail carrier for the United States Postal Service.
Sherry was a receptionist and proofreader at the Glasgow Republican newspaper in 1966 until December 1967, when she and Forrest Lee had their first child, a son named Brooke. In 1970, a daughter named Marla was born.
Sherry was a stay-at-home mother of two and a farm wife from 1967 to 1974, when she started working part-time in the law office of Tom D. Emberton in Edmonton.
In 1982, she and Forrest Lee had their third child, Robyn. Sherry did volunteer work in the school system and attended classes at Western Kentucky University in 1988-89. She worked part-time at First Federal Savings Bank in 1989. She served as a board member for the Metcalfe County Board of Education from 1991 to 1998. In 1998, Sherry worked with the 21st Century After-School Program for many years and later became a paraeducator substitute.
She is a graduate of the 2002-2003 Leadership Metcalfe County class. Sherry is a member of New Liberty Baptist Church, where she serves as church clerk and pianist. She loves spending time with her family: Brooke and his wife, Lisa; Marla and her husband, Fred; Robyn and her husband, Mike; seven granddaughters; one grandson; one grandson-in-law; one great-granddaughter; and one great-grandson.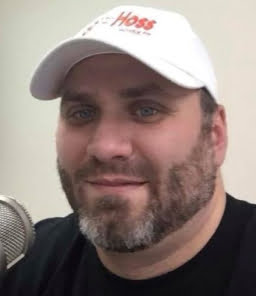 Director
Bobby Edwards - WHSX 99.1
Host of the Morning Bluegrass Hour, Hoss Morning Show, and The Morning Trader on WHSX 99.1 The Hoss.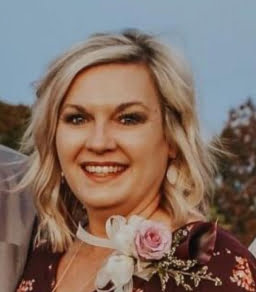 Director
Anna Devore-Birge - Wall Works
Annie Devore-Birge, a lifelong resident of Metcalfe County, grew up in the Subtle area of Metcalfe County and graduated from Metcalfe County High School in 1991. She started her career at Thompson Insurance and worked closely with the late George Cowan for fourteen years. The insurance business prepared Annie for her next fourteen-year journey, where she traveled the state of Kentucky conducting general liability and workers' compensation audits for a company out of Grand Rapids, Michigan.
In 2016, an opportunity arose in Edmonton that Annie and her husband, Chris Birge, felt was an answered prayer when they purchased Wall Works. Chris and Annie shop local and promote all businesses in Edmonton and Metcalfe County at every opportunity. They love and appreciate all the support they receive from residents and businesses in Edmonton, and they return the favor as much as possible. They support the Metcalfe County School System and all the clubs and teams. Annie feels privileged to serve the residents of Edmonton and Metcalfe County through the Edmonton Metcalfe County Chamber of Commerce.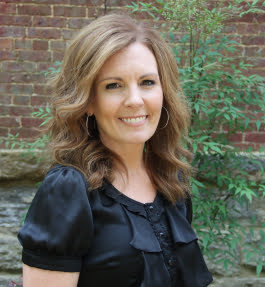 Director
Laurel Garrett - Edmonton State Bank
Laurel Garrett is a 1998 graduate of Metcalfe County High School, a 2003 Graduate of Western Kentucky University, and a 2010 & 2011 Graduate of the Kentucky Bankers Association General Banking and Commercial Banking Schools.
Laurel began her banking career in 1997 at South Central Bank with a partnership through the high school. From 1997-2007 she worked in the Metcalfe, Monroe and Warren County markets as a Teller, Mortgage Loan Processor and Loan Officer. During this time she also co-chaired the Metcalfe County Junior Miss Scholarship Program.
In 2007, Laurel moved to Allen County to oversee a new market for South Central Bank, and she was the Branch Manager and a Loan Officer in Scottsville for ten years. While residing there, she served on the boards of the Allen County-Scottsville Chamber of Commerce, Allen County Distinguished Young Woman Program (formerly known as Junior Miss) was a member of the Rotary Club, and worked with Allen County Relay for Life.
In 2017, after twenty years in banking, Laurel pursued a career as the Client Success Manager for KirkpatrickPrice, a global information security audit firm. Also in 2017, she and her husband, Daniel, moved back to their beloved Metcalfe County with the desire to raise their young family here. In 2020, Laurel resumed her career in banking, and joined the team at Edmonton State Bank as a Loan Officer.
She is married to Daniel Garrett of Edmonton, and together they have three children, all in Metcalfe County schools; Maddux, Chance and Tymber. Laurel enjoys giving back to the community and has recently served as an FCA Character Coach, on the PBIS committee at MCMS, and on the Facilities Committee for Metcalfe County Schools. She attends Edmonton Baptist Church, enjoys watching and supporting youth sports, amateur photography, and loves to spend time with her family. Laurel has served on the Edmonton-Metcalfe County Chamber of Commerce as a Director for the last three years.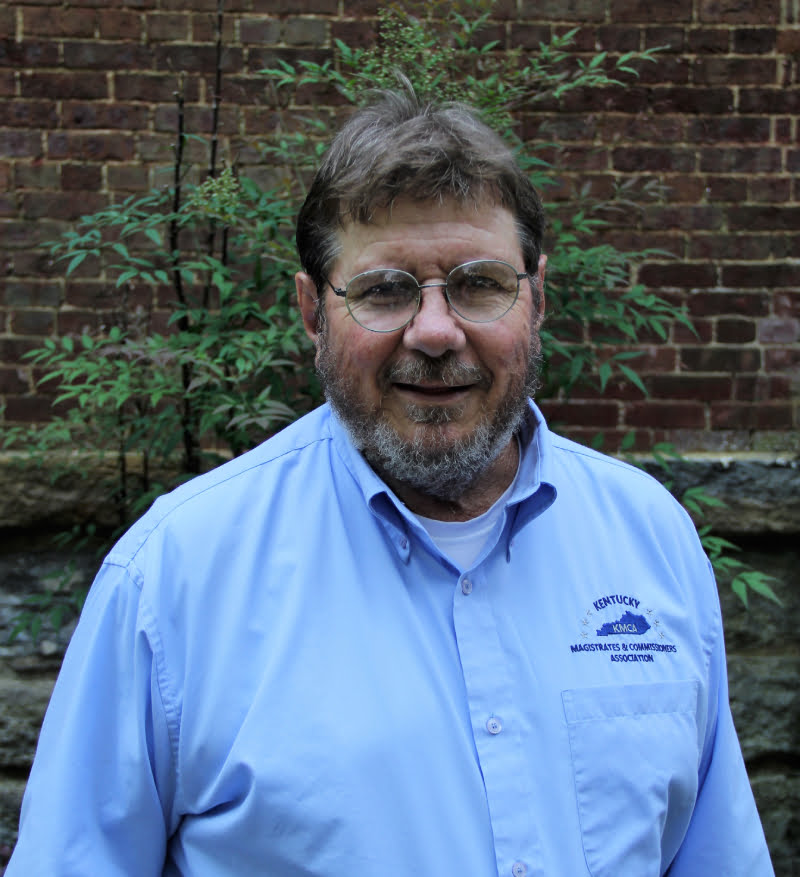 Director
Ronnie Miller - Metcalfe County Magistrate
Ronnie Miller is a lifelong resident of Metcalfe County. He is a 1973 graduate of Metcalfe County High School. Ronnie is married to Gail Pendleton Miller. They have three children and one granddaughter: Kyle, is employed by the Pennington Stave Company. Laura works as an Early Childhood Consultant and is married to Adam Welsh. Aaron is a Physical Therapist for H2 Health Rehabilitation and is married to Caitlin Barker, they have one daughter Lucy.
Ronnie served as a City Councilman for 4 years and is currently serving as Magistrate of the 4th District. He is an avid Hornet Sports Fan, and is the clock keeper for Hornet Sports, Boys and Girls. In addition to serving on the Chamber Board, Ronnie also serves on the Health Department Board.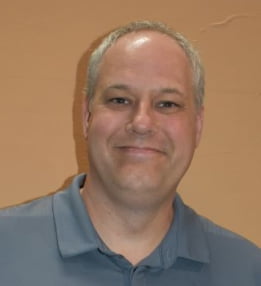 Director
Matt Shirley - Metcalfe County Schools
Lifelong resident of Metcalfe County
Athletic Director and Director of Digital Learning for Metcalfe County Schools
Married to Autumn Shirley, a third-grade teacher at Metcalfe County Elementary. Autumn is also a lifelong resident of Metcalfe County.
They have two children, Ben (13) and Abby (10).
Education:
Attended Western Kentucky University
Received a bachelor's degree in social studies education
Received a master's degree in learning and behavior disorders
Holds Rank 1 certifications in supervisor of instruction level 2 and director of pupil personnel level 2
Attends Edmonton United Methodist Church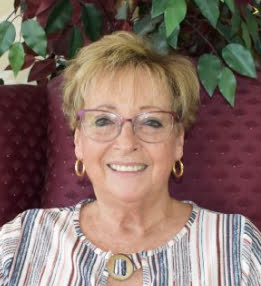 Director
Faye Word - Edmonton City Council Member
Faye Word is a lifelong resident of Metcalfe County. She has been married to Dannie Word for 53 years. They have two sons, Michael and Daniel Word, two grandsons, Gunnar and Luca Word, and one granddaughter, Ryan Word. Faye has had her real estate license for 25 years and retired from the Metcalfe County Property Valuation office after 20 years. She is currently serving as a city councilwoman for the city of Edmonton and is now happy to be serving on the Edmonton Metcalfe Chamber Board of Directors.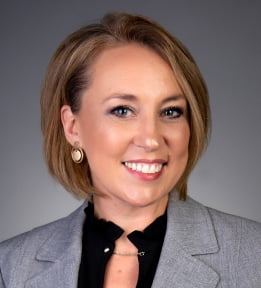 Director
Tareena Horton Slone - Kentucky Farm Bureau
Tareena is a Kentucky Farm Bureau Agency Manager with an office located at 312 Stockton Street, Edmonton, KY, 42129.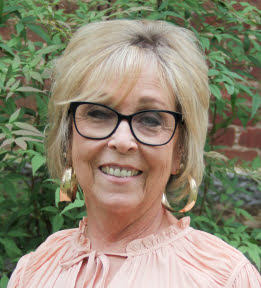 Director
Freeda Reece - Edmonton State Bank
I am a lifelong resident of Metcalfe County, I am married to Don Reece and have two children, Ashley Bailey and Brian Reece. I have 5 grandchildren. I have been involved in the Edmonton Metcalfe Co. Chamber since the 80's, currently serving on the Board of Directors. I have been employed by Edmonton State Bank since March 1974. My passion is serving Metcalfe County in any way I can. I especially enjoy working with the Chamber and the school system as a volunteer. Kids are my passion, while I have also been a mentor for the Boys and Girls Club in Glasgow for the past 10 years.
One of my highest honor was being chosen as the Jim C Coleman recipient.
I enjoy spending time with my children, grandkids while spoiling them all I can, and traveling with my girlfriends. I would encourage everyone to be active in the community.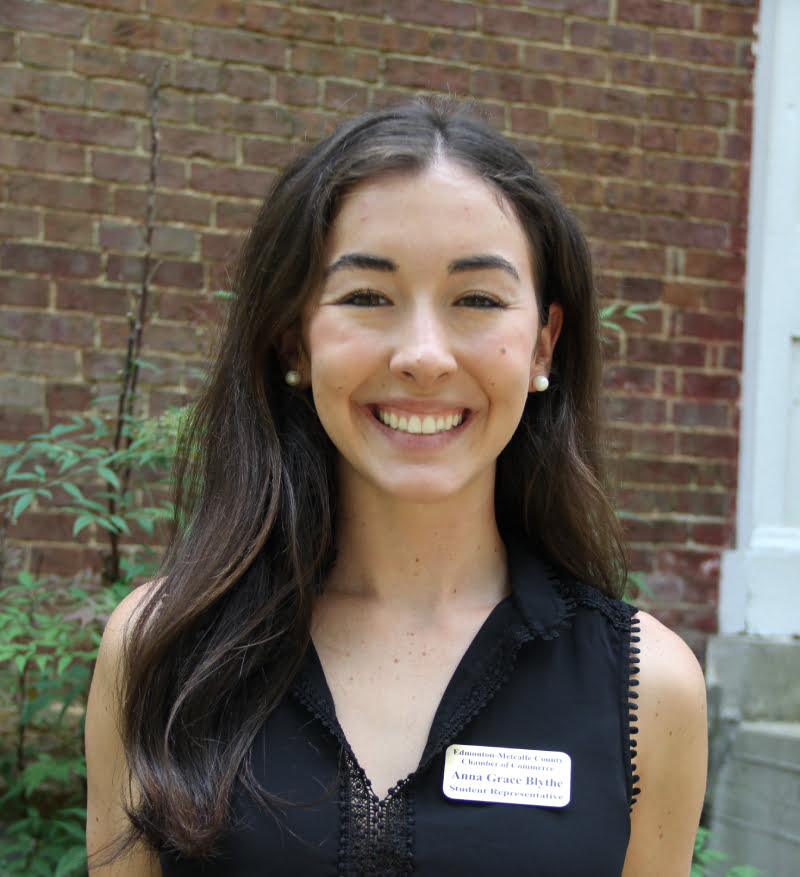 Student Representative
Anna Grace
Anna Grace is a junior at Metcalfe County High School. Her parents are Jeff and Ashley Blythe. She is currently planning on attending Western Kentucky University to pursue a career in nursing. She is currently involved in basketball, cross country, track, Sources of Strength, Fellowship of Christian Athletes, National Honor Society, HOSA, Sting Team, BETA, and The ASAP Coalition.
Anna Grace is active in the community and devotes time to various projects that will benefit Metcalfe County. Anna Grace is excited to be a new member of the board and looks forward to using her voice and role as a high school student to enhance new ideas.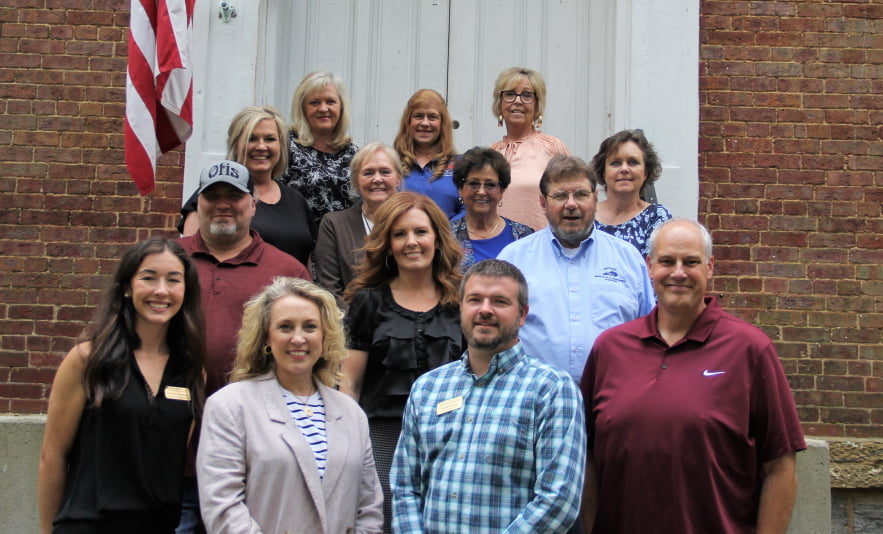 2023 Board of Directors